Soil Testing Startup Kit
for
Turf ~ All Ornamentals ~ Gardens ~ Agriculture

This complete kit can generate significant dollars in new sales.
Best of all, it moves you into a new level of Professionalism… far above most of your competitors.
Professional Prescription Soil Test Startup Kit Includes: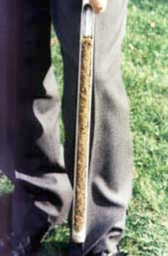 Soil Testing Manual Containing:

Profitability & Benefits of soil testing
Horticultural Testing vs. Agricultural Testing
Tips on measuring the test area
Basic soil structure information
Promoting and protecting soil biology
Procedures to initiate soil testing program including customizable letters, tracking forms, and Recommendation application pricing
How to collect soil samples
How to understand the Recommendations


50 collection bags
Automatically subscribed to our Web-Based Soil Test System:

Log in to enter customer & soil test collection data
Check on status of every test being processed
Email notification when Results/Recommendations completed
Email or print out copies for your customer
Review archived tests any time
Maintains customer database & generates 3rd year test list
Eligible for rebate program

Core Sampling Soil Profiler OR Measuring Wheel with telescopic handle and kick stand – YOUR CHOICE!
With Every Test You Get:
19-point Prescription Soil Analysis with recommendations that are very detailed
yet easy to follow
Discounted pricing program for professionals
6-page, Full Color Brochure for your customer
Full-view mailing envelope for your customer
$10 credit towards any Nature's Pro® Product
Soil Test Folder
Advanced, Nutrient-Availability Testing for Turf, Ornamentals, Gardens and Crops:
Cost for this test is $73*
Includes everything under 'With Every Test You Get' detailed above
The 'Optimum Range' is adjusted to match the specific turf, ornamental or crop for which the soil is being tested
The actual 'Type of Soil' is determined and the results are adjusted accordingly
Therefor,the final recommendations are for that specific plant (turf or crop) growing in that specific soil
Professionals and farmers can request a free subscription to our web-based soil and foliar testing service
Sample Reports/Recommendations can be viewed at the links below:
Additional reports for various plant species can be obtained for $10 each when based on the same soil sample.